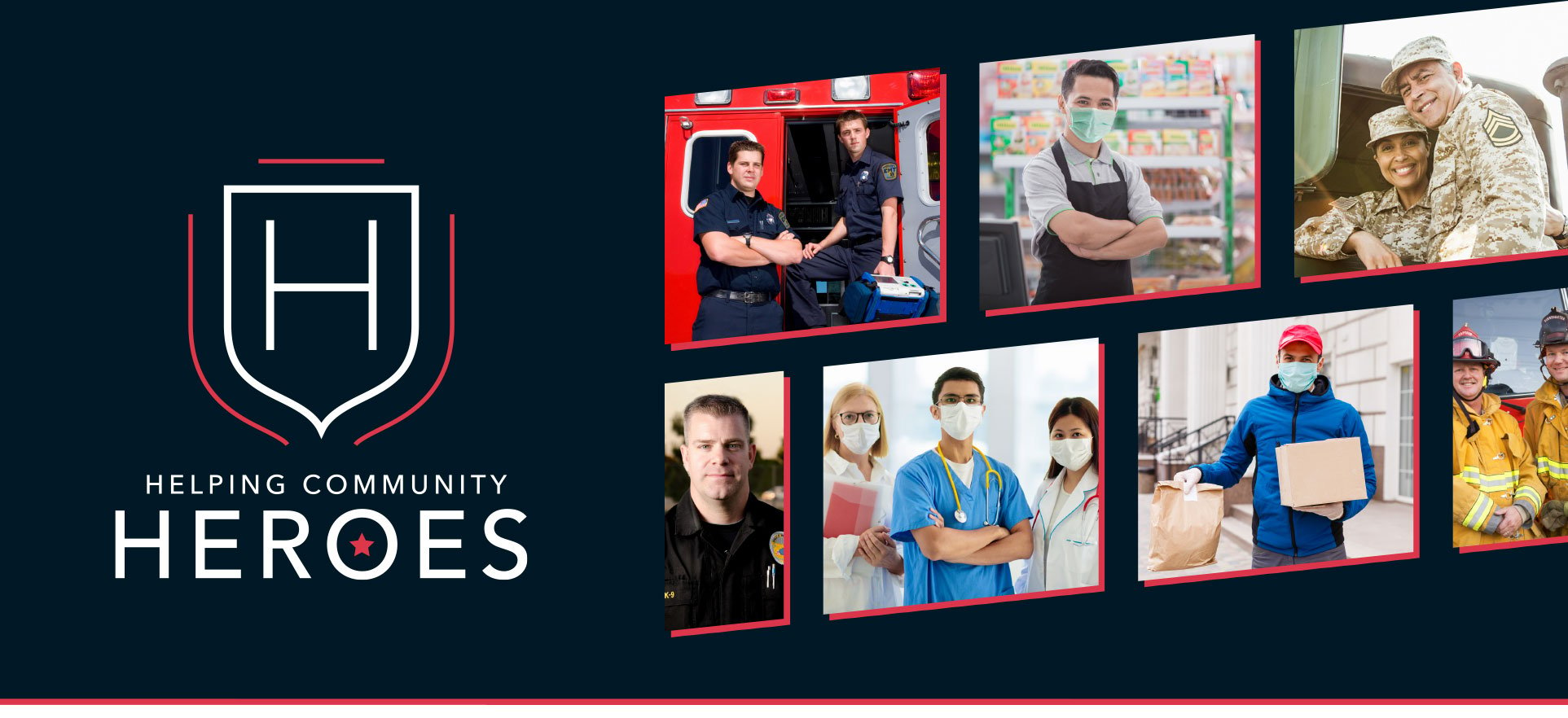 Helping you make housing more affordable
with a ¼% interest rate reduction, free.

To say "thank you" to our essential heroes we will buy down your interest rate by ¼% on your next purchase, and if you have a home to sell, we will offer you substantial SAVINGS as well.

We appreciate that amid COVID-19, First Responders, medical providers, and other essential workers have put everything on the line. To serve you in return, our First Team Family of Companies is making it possible for qualified heroes to take advantage of up to tens of thousands of dollars in SAVINGS when we pay for you to buy down, and reduce your interest rate by ¼% for your mortgage financing for up to 30 years.

Here are the
Possible SAVINGS Examples:*
30-Year Fully Amortized Fixed-Rate Mortgage
with

¼%

Interest Rate Buy Down:

---
$34,278

SAVINGS

on $700,000 Loan Amount
$29,381

SAVINGS

on $600,000 Loan Amount
$24,484

SAVINGS

on $500,000 Loan Amount
$19,587

SAVINGS

on $400,000 Loan Amount

Since 2017, First Team has offered a similar savings program to military households and has been recognized as the #1 contributor to this program nationwide by Leading Real Estate Companies of the World®, the largest network of independent brokerage firms in the U.S.
Take advantage of this program to have us buy down your interest OR apply your substantial SAVINGS directly toward closing costs.
Save TWICE when you buy and sell a home through this limited-time offer.
We thank you for allowing us to stay safe at home.
Now trust us with yours.
For more information on taking advantage of this limited-time offer, contact me.

First Team® Real Estate
Founded in 1976 in Orange County, First Team has been trusted by 250,000 Southern California households for real estate sales and purchases. As a local family-owned business, we are big enough to have the resources and small enough to care.
Homeowners First Mortgage
Homeowners First Mortgage offers hundreds of loan choices to our customers, with our strength rooted in the knowledge and experience of our loan officers. Many of our loan officers have been in the industry for decades and have successfully handled all types of home buying situations. Our team is experienced, professional, and readily available to our customers to answer any questions, address issues, and help them navigate through the mortgage process smoothly.

*Offer provided by First Team Real Estate and may be withdrawn at any time, with or without notice. Offer subject to cooperation of independent brokerage and agent members of the MLS on co-op transactions and consumer's use of First Team Real Estate's affiliate, Homeowners First Mortgage, LLC for financing. Maximum loan amounts apply. Discounts and saving promoted here are estimates only as of 05/6/2021, are based on a market interest rate of 3.25%, and do not bind First Team Real Estate or any of our affiliates. By way of example, a home with a purchase price of $1,000,000 with $700,000 financed at 3.25% / 3.277% APR and borrower-paid closing costs of $2,400 would result in $34,278 in interest savings over a 30-year term. First Team Family of Companies consists of essential services of escrow settlement, title insurance, real estate brokerage, and mortgage finance services. You are advised to seek your own counsel from your accountant or legal advisor. 108 Pacifica, Irvine, CA 92618. Lic# 01008773. © First Team® Real Estate. All rights reserved. This is not intended to solicit a listed property. If your property is currently listed for sale with a broker, please disregard. Financing provided by Homeowners First Mortgage, LLC, 108 Pacifica, Suite 250, Irvine, CA 92618. Corp NMLS#: 1932549 (www.nmlsconsumeraccess.org). Loans made or arranged pursuant to a California Finance Lenders Law license. This communication does not constitute a commitment to lend or the guarantee of a specified interest rate. All loan programs and availability of cash proceeds are subject to credit, underwriting and property approval. Programs, rates, terms and conditions are subject to change without notice. Other restrictions apply.
Testimonials
" Gwen did everything in her power to sell my house. She was a miracle worker. "
- Paula Ziegler
" Gwen Miller is very genuine, and she is honest with the data to back up her numbers. She is extremely responsive and personable - always got back to me within a couple hours or shorter. She accompanied each showing and took care of my dog, in order for me to keep the dog in the house during showings. She kept me informed at each point, and her negotiation skills were great. She knew when to wait it out, and when to move on an offer or an interested party. I have recommended her to all my neighbors, and have told friends how great she was to work with - actually the entire team was a top notch operation, Tuyet was professional and detailed in all our conversations. I can without a doubt say, Gwen Miller put together a wonderful group of professionals - the handy man, the plumber, the escrow company, and she worked with the buyers and their agent very well - no problems at all. I could not be happier!! Adele Kelso "
- Adele Kelso
" We were very confident in Gwen's experience and professional attitude. She responds quickly to questions, explains details and situations, listens to concerns, offers help and suggestions and is patient and understanding through the process. We trusted her advice and knew we were in good hands. Her associates were equally professional especially Coast Cities Escrow. "
- Cynthia Ann Hurley
" We're so happy we chose Gwen Miller as our agent when we decided to sell our home of 17 years in Huntington Beach. It's no easy task selling your house, especially in the time of COVID-19 and all the new protocols and such. Gwen guided us through every step of the way. We felt assured having Gwen guide us through everything and taking the time to explain all the details and processes that one has to go through (and its alot). Her professionalism and communication let you know she's taking care of business and does her best to minimize any stress. She's an expert in her field, as well as, being respectful and personable, we always felt like we were her priority. Because of Gwen we had a very smooth, positive and stress-free experience selling our house. Not to mention she was able to successfully and timely sell our house over asking price. Thank you Gwen! "
- Bob & Rose Snyder
" Gwen represented the seller who we bought our FV house from 30 years ago, and in the years since, we/ve gotten to know her as she was a constant in the neighborhood. When we decided to sell, there was no question we would choose Gwen to represent us. She gave us great advice to help us get our house ready to sell, and she was spot on in terms of pricing. Responsive to our needs, she kept us informed along the way and helped guide us through a couple of issues that arose during the escrow process. We were confident in her as a realtor and trusted her as someone who would best be able tohelp us sell our home. There's no question we made the right decision in choosing Gwen to represent us - She was terrific! Thanks, Gwen! "
- Shirley J Hunt
" Gwen was great! She was such a support. I would recommend her in a heartbeat. She really knows the business. "
- Linda Mary Birkenstein
" Gwen was like a personal friend and always responsive to my needs/questions, etc. "
- Susan M Geck Laurie M Stone Rudolph Geck Jr
" Overall it was a great experience. "
- Michael Scott Montgomery Lisa Lynn Jones
" Gwen was very dedicated to getting our house sold for the best possible price. We truly appreciate her efforts "
- David M Smith
" Seeing her signs in my neighborhood for the last 35 years also her reputation among my friends and neighbors of a professional and honest Person. We are very please with her friendship and will recomiende her any time. Thank you so much for her hard work . "
- Rafael & Teresa Novales
" Gwen was a pleasure to work with. "
- Richard F Harrington Revoc Family Trust
" My father had worked with Gwen Miller in the past. When it was time to sell his house, I spoke with a few agents. I chose Gwen because she is a very experienced real estate professional She went above and beyond my expectations of a real estate agent. She was always available when I needed her. Gwen went through the entire house when we decided to sell and pointed out things we could do to increase the purchase price. She gave good advice on pricing and negotiations. She would go by the house often during the week. She had an Open House virtually every weekend day until the house entered escrow. The escrow company she chose handled the transactions very well. I was impressed with her commitment and professionalism. "
- T & J Family Trust
Previous
Next